All the words… (Weekly update 2/4/2017)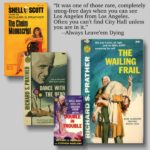 February Special
I can't believe I'm writing this, but from Christie and Cornwall to Patterson and Woods, we have way too many mysteries and suspense. We could triple the shelf space and still not have enough…so our overload is your benefit. Stop in during the month of February and we'll give you 20% off your mysteries. We have British mysteries with quirky detectives, urban mysteries with hardboiled detectives, spies from World War II to present, and cozy mysteries with knitters, bakers, and nosy neighbors. If you are collecting a writer and missing the older works, check with us first…we may well have it and this month you get a discount on every one you buy.
Gunsmoke, The Virginian, and adding a new section…
Like most of my generation, I grew up with Roy Rogers and Fess Parker, although I probably lived in one of the few households where Westerns were banned.  My mother detested Gunsmoke because she grew in in Kansas. My father detested The Virginian because he grew up in Montana.  They were more inclined to watch Man from U.N.C.L.E. and The Avengers than anything sponsored by Twenty-Mule Team Borax or that involved ranch names like the Ponderosa. I finally understood why when we moved to Virginia in the late 1960s, and most of my classmates thought that being from Montana meant that I liked to ride horses, which I get along fine with as long as we are both on the ground with a fence inbetween, and meant that my father owned guns (he didn't…they were on the list of things he detested, along with Westerns). It came as a surprise that my neighbor in Giles County had a cowboy hat (I've never actually owned one) and believed that the west was populated by people who still used wagons to get from point A to point B ( a fact I learned when she asked if I missed traveling in a buckboard).  It took me may years to understand that Westerns had absolutely nothing to do with western culture, and everything to do with the American myth.
Westerns (as well as everything written by James Fenimore Cooper) are the American myth, and while the popularity (both in readership and viewership) of westerns may have decline over the past 40 years. the myth still holds sway and shapes may of our views on individualism and the role of guns and grit in our culture. The cowboy is our archetype, although he has been relocated to urban areas and outerspace.
When we first opened Whistle Stop Books, we had very few Westerns. We had a lot of books about the West and a fair number of novels written by writers from the West (Ivan Doig, Wallace Stegner, Michael Dorris)–but none of the novels fit within the western genre of Louis L'Amour and Owen Wister (The Virginian). In the past couple of months, that has changed, so we are adding a section for Westerns. I should note that the writers from, like Jim Harrison and Richard Hugo, are still located in the General Fiction section, not the section on Westerns.
So, if you are a fan of Westerns, check out the bottom shelf under the paperback mysteries (at least for the time being until we can figure out how to shoehorn in another shelving unit.  We have books by the following authors (plus some others not listed):
Max Brand
Guy Brewer
Ralph Compton
Ralph Cotton
Zane Gray

Ernest Haycox
Joan Johnston
Terry Johnston
William W. Johnstone
Jake Logan

F.M. Parker
Jake Slade
Robert Vaughn
J. Washburn
Stop by and check our our full selection (or at least as much as we can shove on the available shelf)….
And Finally This…
I would like to take a moment to thank all of the folks (Paul, Lisa, Angie) who have been donating books to the cause down here in the past week. We have a wonderfully eclectic selection because we have some wonderfully eclectic donors. I thank you and the depot (if it could speak) thanks you.  I would also like to thank the Collegiate Times (Megan Maury Church, writer, and Tayo Oladele, photographer) for their wonderful article, although the headline was somewhat geographically challenged (we are located in the Cambria section of Christiansburg rather than in Blacksburg).